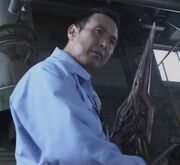 Tsumazaki (妻崎?, 13): The manager of Kaneshiro Foods' factory who has a warped work mentality, Tsumazaki is charge of a method by his kin where human souls can be stored within capsules to be ingested later. Wounded by Aguri, Tsumazaki is slain by Garo.
Tsumazaki is portrayed by Hideaki Kusaka (日下 秀昭 Kusaka Hideaki?).
Ad blocker interference detected!
Wikia is a free-to-use site that makes money from advertising. We have a modified experience for viewers using ad blockers

Wikia is not accessible if you've made further modifications. Remove the custom ad blocker rule(s) and the page will load as expected.