Ogha Armor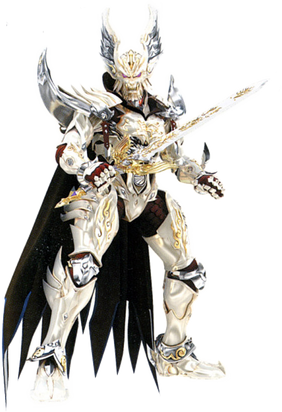 Ogha
Equipment
Ogha is a white Makai Armor that specializes in long sword combat, that appears in the pachinko game, Makai Decisive Battle Gaoh. Unique to the game, the armor never made a live action appearance and remains only in the game.
Description & Characteristics
Edit
Much like other sword oriented fighting armors (Garo or Kiba) Ogha possess the same design measures with one distinct difference in the form of the hawk spread wings that decorate the mask and the cape that symbolises his mastering of the armor fighting style. The Hawk like theme may represent an anlogue of his title as hawks are a symbol of nobility, status, and warrior spirit in Japan culture. 
Whoever wears this armor will take the title of the Emperor Knight Ogha (オウガ鷹皇騎士王, Ouga taka sumeragi kishi-ō) or Ogre Emperor Knight.
Ogha is a senior Makai knight member of the Senate and a contestant of the tournament in Makai Decisive Battle Gaoh held to measure the ability of the makai knights, as such he could also be the one hosting the tournament. Ogha is the one currently on the top of the tournament as he is regarded as "The powerful person thats hold the silver armor"
Pics Gallery
Edit
Notes & Trivia
Edit
The Hawk theme of the armor may be related to Japanse Falconry known as Takagari.
Articles & References
Edit
External Links
Edit