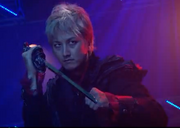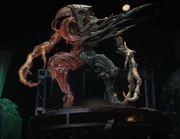 Kurusu (クルス?) is a Horror under Karma. Originally an elderly painter named Kenichi Kurusu (来栖 謙一 Kurusu Ken'ichi?), Kurusu was driven mad by the death of his lover, Shion. He eventually snaps and kills a girl he was using as a model for a painting, trying to emulate Shion onto her. Karma, hearing his anguish, transforms him into a Horror, restoring his youth, and revives the said girl's corpse in Shion's image. In his human form, Kurusu fights with a large sword, holding it in a reverse grip. His Horror form is a large, skeletal creature composed half of bone and half of a fleshy substance. Finding Shion dead, Kurusu goes after the Kouga and Rekka while refusing to accept his love for the girl is a lie before being destroyed by Garo.
Kurusu is portrayed by Shinji Kasahara (笠原 紳司 Kasahara Shinji?), his original form portrayed by Akira Nakao (中尾 彬 Nakao Akira?).
Ad blocker interference detected!
Wikia is a free-to-use site that makes money from advertising. We have a modified experience for viewers using ad blockers

Wikia is not accessible if you've made further modifications. Remove the custom ad blocker rule(s) and the page will load as expected.