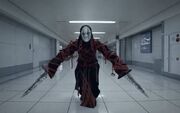 Karakuri (カラクリ?) are Horrors that are changed by Legules. Legules carries with him demonic masks and transforms live Horrors into his Legules family foot soldiers. Just like regular Horrors, they are able to enter humans and take control of them. However, they seem to be unable to blend in naturally as the regular Horrors can behave like a normal person. Their movements are very mechanical and move almost like karakuri puppets. They have high regenerative capabilities, bladed weapons as arms, and seem to have a ninja-like combat method. Their combat potential and strength is not above a regular Horror, but Horrors act independently as these Horrors serve a master. They do not speak, but merely make sounds and shift their eye sockets up and down as they react to their environment. Their body parts are known to function on their own even though if dismembered. They are all destroyed as the result of Legules's death.
Ad blocker interference detected!
Wikia is a free-to-use site that makes money from advertising. We have a modified experience for viewers using ad blockers

Wikia is not accessible if you've made further modifications. Remove the custom ad blocker rule(s) and the page will load as expected.