Latel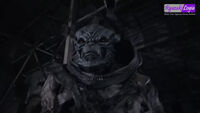 Izumo
Equipment

Latel is one of the Ady Slate Horrors.
The younger brother of the Makai Priestess Bikuu, Izumo was a fallen Makai Knight who ended up confronting Latel after the Horror was just freed from the Ady Slate by Eiji Busujima. Latel proceeds to defeat Izumo and take over the Makai Knight's body to use as a vessel so he can fight more worthy opponents to devour. As Bikuu was deployed to kill her brother from his transgressions, she is forced to work with Raiga Saezima as he and his group are after the Horror. This leads to Latel going after Raiga before being slain after Bikuu targeted a weak point on her brother's body. Once Latel's essence is reduced to a stone, Bikuu proceeds to purify what remained of her brother.
Ad blocker interference detected!
Wikia is a free-to-use site that makes money from advertising. We have a modified experience for viewers using ad blockers

Wikia is not accessible if you've made further modifications. Remove the custom ad blocker rule(s) and the page will load as expected.