Hideyuki Shiranami (白波 秀行 Shiranami Hideyuki?, 7): The manager of Vol City's Immigration Bureau who desires to make others happy, bringing people accepted by the city to a manor in Vol City's Dream Garden Hills community where they are devoured by the Horrors residing there. Shiranami almost fed the Suzuki family to his familiars before the Makai Knights intervening with Ryuga and Takeru slaying the Horror.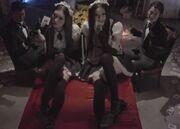 Shiranami is portrayed by Kenji Mizuhashi (水橋 研二 Mizuhashi Kenji?).
Ad blocker interference detected!
Wikia is a free-to-use site that makes money from advertising. We have a modified experience for viewers using ad blockers

Wikia is not accessible if you've made further modifications. Remove the custom ad blocker rule(s) and the page will load as expected.