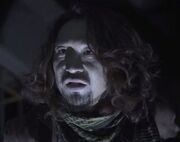 Danda (壇田?, 4, 5): A man who becomes the vessel of a Horror that emerges from a radio. He later attacks a customer at tousei's steakhouse where both Enho and tousei see him consume a victim right in front of them.The Horror travels through speakers so the makai knights throw the artifact at him when he escapes into a motorcycle radio. Ryuga manages to take their fight to another part of the building to slay the Horror to hinder his escape.
Danda is portrayed by Namihei Koshige (こしげ なみへい Koshige Namihei?).
Ad blocker interference detected!
Wikia is a free-to-use site that makes money from advertising. We have a modified experience for viewers using ad blockers

Wikia is not accessible if you've made further modifications. Remove the custom ad blocker rule(s) and the page will load as expected.