Dan Armor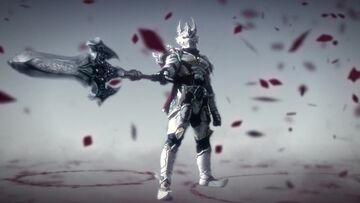 Dan
Dan Transforms
White Knights
Equipment
Alternative Versions
Dan is a Makai Armor that specializes in spear combat. Whoever wields the armor shall take the title as the White Knight or Dan the Midnight Sun Knight (白夜騎士・打無(ダン) Byakuya Kishi Dan). The armor is currently wielded by Tsubasa Yamagatana.
Description & Characteristics
Edit
The Dan armor is designed with ornate Japanese themes, taking aesthetics to ancient Japanese armor with a Makai touch. It is unique amongst the Makai Order as it's the only armor that is charged, along with its user, to have a permanent post to protect the territory of Kantai, a training ground for the order. Dan has no special gimmicks, for a beautifully designed armor, it only has the basic characteristics of any Makai Armor. When greater combat power is needed, its user can utilize Blazing Armament and/or summon his steed, Hayate. Because Dan specializes in spear combat, Dan has a greater advantage in its attack range. If needed, the knight can throw the spear at great ranges to take down its target. Dan supposedly possesses the ability to levitate objects and redirect them, but that ability is actually related to the Tsubasa, who has some magical training; the armor doesn't actually grant its user any unique powers. Overall, the armor is highly formidable in combat.
Pics Gallery
Edit
Notes & Trivia
Edit
Articles & References
Edit
External Links
Edit