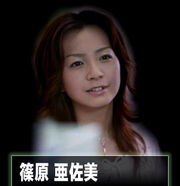 Asami Shinohara
(篠原 亜佐美, Shinohara Asami?) is Kaoru's best friend. She always helped Kaoru's financial problems by giving her financial tips, loans, and job references. When Kaoru lost her apartment Asami reluctantly allowed Kaoru to move in for a few days. Kaoru made a dish for Asami as a way to appease her, but made her sick instead. Asami was sent to the hospital, which at the time was filled with Horrors, but she was not devoured. Asami eventually was phased out of the story line and only appeared once in a while to show she's still in contact with Kaoru. She returned as the "God of Painting" in Garo Side Story, but not in Garo Special: Beast of the Midnight Sun.
Asami is portrayed by Mina Fukui (福井 未菜, Fukui Mina?).
Ad blocker interference detected!
Wikia is a free-to-use site that makes money from advertising. We have a modified experience for viewers using ad blockers

Wikia is not accessible if you've made further modifications. Remove the custom ad blocker rule(s) and the page will load as expected.